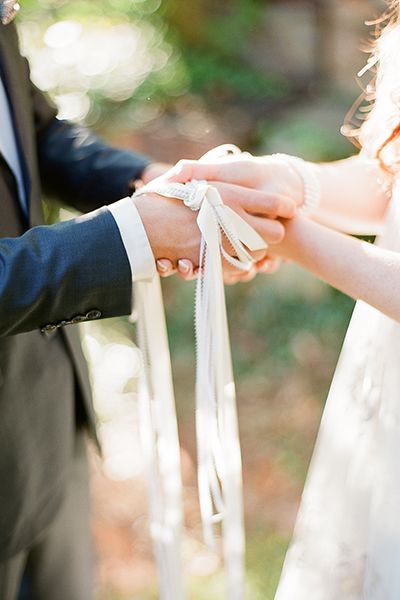 Imagine a wedding day founded in heritage or spiritual traditions.
Imagine that the rings have been exchanged, and as you family & friends watch, your celebrant brings forth a beautiful length of cloth. She explains that she hand-wove it in the weeks leading up to the wedding, using seaweed and natural fibres. She says that as she wove it, she would sit on the shoreline and ask for the blessing of her gods, listening to the ebb and flow of the tide. Imagine, that as she places the cloth around the couple's clasped hands, she speaks clearly: "May the gods bless you. May the great sea bless you. And may the ebb and flow of the waves show you that life also ebbs and flows, like emotions and love, and that the secret is to trust that after the ebb, the flow will come again. Blessed be."
A handfasting is a wedding ceremony that incorporates the act of tying the hands together, to demonstrate either your Celtic heritage, or your spiritual beliefs, or both.
This style of ceremony was initially understood to have started hundreds of years ago in the British Isles. Like the way a couple exchange rings in our times, traditionally, the tying of the hands together – handfasting – was practised as the way of "legally" marrying a couple. In Scotland in particular, a strip of your clan's tartan was used as the cloth in the handfasting, though these days, people may use many different things: a strip of cloth from a relatives older wedding dress; a piece of cloth specially woven for the couple; a length of ribbon, or even a few different coloured ribbons. When included as part of a modern ceremony, a handfasting offers a memory of heritage and tradition.
Alternatively, a handfasting can be a spiritual ceremony. For Druids, Pagans, Witches & Wiccans, a handfasting is still a remembrance of Celtic heritage, but also a way for a couple to be wed by their spiritual beliefs. The joining of the couple's hands with cloth or ribbon, with the blessing of the celebrant (and priestess) and the blessing of the gods, offers the couple a spiritual addition on their special day. As a priestess, this style of handfasting is especially powerful for me, and once I offer with the deepest respect for each couple.
To a handfasting ceremony I bring:
A passion for ceremony & a wealth of ceremony experience
Authenticity, honesty, patience, respect & understanding
A creative heart & an organised mind
A spiritual understanding & experience of handfastings
Welcome to Green Celebrant ceremonies. Book your ceremony with me today.